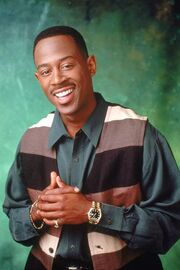 Full name
Carter Payne
Also known as
Cartini, Inch High Private Eye, Donald Stump, Mr. Payne.
Born
April 15, 1965 
Sex
Male

Residence
Detriot Michigan.
Personality
Selfish, mean (sometimes), loud mouth, impatient
Hair color
Black
Eye color
Brown
Likes
His mother's biscuits, Mama Payne, hGina, making jokes about Pam, Nadine, Christmas (currently)
Dislikes
Pam, when Gina makes more money than him, Christmas (formerly)
Family
Great-Grandparents - Unnamed great-grandmother
Grandparents - Unnamed grandmother
Parents - Mama Payne, Unnamed father
Siblings - Mama Payne's other children
Lovers - Gina Payne (Wife), Anglea (ex-girlfriend) 
Uncles - Sunny (Maternal Uncle)
Cousins - Junior (Cousin), The Country Paynes (1st cousins 1x removed), Fluorine (1st cousin 1x removed)
In-Laws - U
Biography
Martin was born and raised in Detroit, Michigan with his two best friends Tommy Strawn (Thomas Mikal Ford) and Cole Brown (Carl Anthony Payne II). He was raised by his mother Edna "Mama" Payne. His father is mentioned once in the pilot episode, "Beauty and the Beast." During his high school years, Martin had a rivalry with the popular guy, Ricky Fontaine ,"Pretty Ricky" is what they called him (portrayed by Miguel A. Nunez Jr.). Personality
Martin is a sweetheart deep downyne, his father is possibly deceased also his grandmother was mentioned at least twice also her mother (Martin's great-grandmother) was mentioned once their both most likely deceased. He's also the grandson-in-law of Gina's possibly deceased grandmother.
(Tichina Arnold).Jobs
In Seasons 1-2, Martin worked as a radio DJ with his own show on WZUP, a fictional radio station. Martin's topics were always interesting but insulting. Martin always spoke the truth on his show. Most of the topics he talked about included relationships and celebrity guests, and sometimes he talked about his relationship with Gina. Periodically, his topics insulted his friends, and he unintentionally exposed their personal business. For instance, Martin accidentally revealed Pam's secret to getting promotions at work.
Martin's boss was an eccentric, tacky-dressing man named Stan Winters (Garrett Morris). Stan was truly a good person, but his wacky personality sometimes got on Martin's nerves. On Martin's radio show, he had a good fan reception and had many celebrity guests on his show (such as Richard Pryor and Keith Washington).
Martin's co-worker Shawn (Jon Gries) was the station's engineer. Even though Shawn was a little dimwitted and weird, he always offered Martin good advice. At the end of Season 2, in Shawn's final episode, when WZUP was rebranded as a country station under new management and Martin lost his job, Shawn basically told Martin to follow his dreams and to never give up. Despite advice from Shawn and everyone else around him, Martin grew very depressed and ran away from his everyday life and was missing for a long period of time.
After a long search, Gina, Tommy, Cole and Pam finally found Martin at the beginning of Season 3. He was hiding out at a mystertes Gina because she thinks she is trying to take Martin from her.he had a fight with michael jackson